Special Show Edition Variations
If you ever wondered what all the numbers engraved on Tim Cotterill's sculptures mean and how the sculptures can be produced in different colours and with different numbers then read on !
Edition Variations (EV) are how special show frogs are created by Tim Cotterill in different colours from the general edition of the original sculpture. These show frogs can be commissioned by galleries or are created by Frogman themselves to mark anniversaries or other special days and occasions. There are special frogs created just for the UK for instance at Spring and Christmas time.
For example, Sunbather is a general edition sculpture of 5000 and is produced in Orange. Marquesa is a show frog and is an edition variation of this sculpture of only 100 and has been produced in Blue/Green ; while similarly, Spruce is also a show frog and has been produced in Green in an edition variation of only 125. They are all the same basic sculpture with the same dimensions but the show frogs have been especially created with different coloured patinas and their price will then vary accordingly.
Dimensions ( inches ) : 3.5 x 3 x 2.5
Marquesa (now sold out) | Spruce | Sunbather

Tim Cotterill will only ever produce the total edition number of each sculpture, in this case 5000, whether in the original general colour or the subsequent colour variations for show frogs.
In the case of Spruce, this means that 125 of the edition numbers of Sunbather have effectively been given up for this special show frog version which is why each Spruce will always have two numbers engraved on them. (as shown below)
Each Frogman sculpture is also numbered sequentially as they are released with a BF number ( BF meaning Bronze Frog ). Sunbather is numbered BF 164 as the one hundred and sixty fourth frog ever produced.
Whenever a special show frog version is produced it will also be referenced by the original sculpture number together with its show version (s). Spruce is BF 164 s3 which means it is the third special show frog version produced from Sunbather.

LEFT PHOTO : This Spruce sculpture is engraved as Edition Variation #60 of 125 on the base of the left foot and as General Edition # 4710 of 5000 on the base of the right foot
RIGHT PHOTO :  This Spruce sculpture is General Edition # 4723 of 5000 and Edition Variation (EV) # 73 of 125
See Rare Sculptures for other show frogs and edition variations which we currently have available.
Artist Proof Sculptures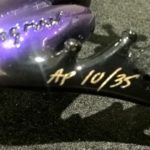 Artist Proofs are traditionally the first few sculptures that are created prior to the General Edition of that sculpture being finally produced.  There can be slight variations from the General Edition as the artist uses them to determine, adjust and then check on the final production standard for the General edition.
This was more noticeable in the past but modern production methods and techniques now make the Artist Proof Edition  virtually indistinguishable from the General Edition, particularly as all Frogman sculptures are individually hand made.
Common practice limits the number of the Artist Proof Edition size available to no more than 10 % of the General Edition size. As a result an Artist Proof sculpture is often highly sought after because of its rarity and usually carries a premium.
Artist Proof sculptures are also numbered differently, in this case using the designation "AP" next to the number and size of the edition.
See Artist Proof Sculptures for what we currently have available.